Special Events Chairman Juanita Wilkins
and her committee
are in the process of organizing and finalizing preparations for
the Chapter Prayer Brunch that will be held in November.
Other exciting events are under consideration for this year.
The Class of '57
announced plans to sponsor
Amtrak travel accommodations to Las Vegas,
Nevada for the 2
nd
Biennial Reunion of the
Classes in July. Anyone interested in
obtaining more information may contact
Levanna Wilson at 501-312-2502.
Erma Glasco Davis,
of Hot Springs Village, and her daughter
Marilyn, of New York City, traveled to San Francisco to attend
Alpha Kappa Alpha Sorority's Boule in July. They also enjoyed
sightseeing and eating delicious food. Three of Marilyn's
Smith College alumni treated them to an all day trip to wine
country via a stretch limousine. What a great day!
The Rosalyn Zeigler-Berry Families
held their Family Reunion
in July at the Embassy Suites in Washington, D. C.
Alvin E. Whitmore, Sr., Dunbar Class of '36,
former member
of the Little Rock Chapter and father of Carolyn W. Taylor and
Alvin E. Whitmore, Jr., celebrated his 96
th
birthday on July 4
th
.
Family members gathered in Milwaukee, Wisconsin to
celebrate this blessed occasion.
Bobbie Peters Singleton
traveled to Houston, Texas in August
to celebrate her birthday with her brother, Charles Peters and
his family. While there she enjoyed sightseeing and visiting
with family. She also traveled with UAPB alumni and
supporters to Nashville for the UAPB-Tennessee State
Homecoming game.
The Shining Stars of Mt. Pleasant Baptist Church
sponsored a
trip in September to Branson, Missouri, to enjoy "Joseph," a
religious performance that included live animals and
outstanding special effects at the beautiful Sight and Sound
Theatre. Rosalyn Zeigler, Juanita Washington, Levanna
Wilson, Gwen Zeigler, Carolyn Taylor, Bobbie Singleton, Ruth
Baker, Anne Harris, Melva Flowers, Audra Dennis, Jean
Gilbert, and Richard Siller, all Dunbar or Horace Mann Alumni,
were among the group of approximately fifty that enjoyed
traveling, dining and shopping together.
Regretfully we must report the loss
of the following Dunbar
and Horace Mann alumni since the last newsletter: Helen Finn
Jones, Ofreida Lewis, Jerry Cooke, Preston Torrence, Wilbur
Woods, Ray Robinson, Henry Shead, Louise Nelson, Joyce
Nichols, Frank Hamilton, Melvin Peyton, Courtney Walls and
Irene Jones. Let us keep their families in our prayers.
T

he site of registration was The Attic which is
privately owned and operated by chapter
member Faye Perry Russ. The Attic (which
has a treasure of Horace Mann memorabilia) is
centrally located and was a convenient place
for voter registration.
While the volume was not as great as we would have liked we are
very proud to have participated in the nationwide effort to register
eligible voters that might not have gotten registered. Volunteers
were: Juanita Wilkins, Harold Gardner, Faye Thomas, Rasheedah
Rahmann, Thelma Cole, Edna Robinson, Faye Russ, Mary Hardin
and Carolyn Taylor.



MUSIC NOTES
Friends of Mosaic Templars Cultural Center presented award winning
Singer/Performer Al Jarreau

in concert to a sell-out crowd at the
Center on September 22
nd
. The evening was fabulous and the
concert was awesome. Several Little Rock Chapter members
purchased tickets in memory of Dorothy Barnes and were seated
together. Friends of Mosaic Templars Cultural Center is a 501c3
non-profit organization formed to raise funds for the Cultural
Center. Our own Erma Glasco Davis is Chairman of the Board of
Directors of the Friends group.
James Leary, a member of the Mann Class of '64
and the 2011 ND/HMAA Legacy Award recipient,
performed two shows during the week of
fundraising events in Little Rock in August
on behalf of the

Second Annual A Work
of Art

Art Porter Music Education Foundation.
"A Jazz Reunion with James

Leary"

featured a
bevy of
local and national guest performers. Nationally
recognized bassist Leary joked with the audience between numbers,
displaying a sense of humor as considerable as his musical talents.
Throughout the week other notable artists displayed their musical
talents vocally and with instruments. They were Lexington Porter,
Kaleb Green, Alex Bugnon, Tonya Leeks, Chris Parker and Will
Downing. The Foundation was created in honor of the nationally
known musically talented father and his son, the late Art Porter, Sr.
and Art Porter, Jr. Both were Dunbar alumni and Art, Sr. was a music
educator at Horace Mann High School. The Art Porter Music
Education Foundation has as its mission to provide musical
enhancement opportunities through workshops and seminars.
Proceeds from fundraising events are used to award college
scholarships to music students. A member of Mann Class of '62,
Sterling Ingram is the Director of the Art Porter Singers and Chairman
of the Board of Directors of the Art Porter Music Education
Foundation.
Copyright © 2022 NATIONAL DUNBAR HORACE MANN ALUMNI ASSOCIATION. All Rights Reserved.
NEWS FROM LITTLE ROCK
In July, just in time for her 78
th
birthday,
Evelyn Douglas Rose
was married to Jerry A. Jones
from Indianapolis. Both lost their
mates several years ago, and were ready to try again. Early in
September they enjoyed a wonderful trip to Capistrano Beach in
California where they enjoyed the beautiful Pacific ocean, and
were able to visit some friends and family.
FORMER MEMBERS OF THE
DUNBAR ALUMNI CHOIR
met on
the 25
th
of August for fellowship and
re-acquaintance at SIMPLY
NAJIYYAH'S FISH-BOAT &
MORE, located in the old Nabor's
Theatre building on Wright Avenue. If you are ever in town stop
in this place. It is wonderful, and you will enjoy the food.
Among those present were Addison and Evelyn Dean, Evelyn
Rose-Jones, Rasheedah Rahmann, Rose Person, Carl Hines,
Maggie Fingers (for Earnest, who is living in Texas with his son,
LaMarion Adams, Marian Fowler Armstrong, Pearl Johnson
Gover, Barbara Leary Smith, John Brown, Rev. Sanford Tollette,
Thelma Davis Cole, Clai Morehead, Milton Crenshaw (who
came in to order food and joined our group), Colleen Tyson's
daughter came to represent her, as she was not feeling well that
day. We said we are planning a mini-concert later in the fall at
Faith United Church of Christ (Evelyn's church). It will be fun to
sing together again.
William Douglas
(Class of l950) has relocated to the Atlanta area.
He suffered a fall at his home in Hensley, AR., and is no longer
able to live alone. He had to sell his farm, and is now living with
his son and wife, who he remarried after being apart for 23
years!!!! His address is: 2788 Rambling Way, Lithonia, Go.,
30058.
Rasheedah Rahmann
celebrated her 83
rd
birthday with a luncheon
on the Arkansas Queen on the last Saturday in
September. She is a member of a birthday club,
and she celebrated her birthday late in the month
because another member had a birthday around the
same time as hers. The weather was nice (we
finally began to have some cooler days), food was
good, and the fellowship was wonderful. and many
friends new and old attended.
During the September meeting the
Little Rock Chapter members
agreed that voter registration was a worthy
project to undertake before the October
deadline date. Mary Hardin, Chairman of the
Community Outreach Committee, coordinated
this activity by acquiring the needed materials
and organizing the members of the chapter
that volunteered to serve. They were on duty
to assist the registrants in filling out their
registration forms and to provide eligibility
information.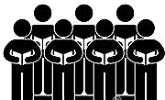 V
o
l
u
m
e
20
N
u
m
b
e
r
2